The Upholstery Zone will make it happen for you! Enjoy a comfortable, relaxing massage while you ride your bike – Ride more, relax and enjoyed you trip with no pain or discomfort – Heated pads will help you stay warm in cool weather.  Contact us today for more information.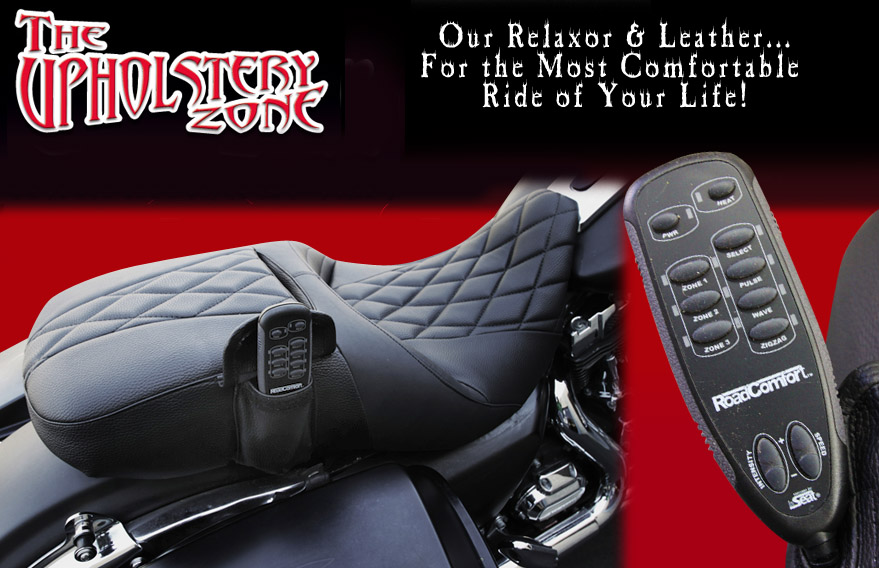 Ergonomic Design for Motorcycle Seats and Vehicle Applications
HEATERS:
Adding Heating Elements to your Motorcycle seat for total comfort year-round!
Electronically controlled heat settings and construction utilizing 100% adhesive coverage to adhere the heating element to the foam of the seat. Our system uses an electronic controller that assures the right amount of heat is delivered through covers of different thicknesses, ie. Leathers, Vinyls, Exotic Skins, etc.
Specifications:
Lumbar heat available in high or low temperature.
Low voltage (12v) with 15 or 30 minutes Auto Turn-off timer.
Heat temperature 40-60 degree C.
Hand control (Heat pad & Relaxor unit only) with LED light indicator.
Quick disconnect lighted High-Low
RELAXORS:
Adding Relaxor massage elements to your motorcycle seat – a smarter way to enjoy the ride, relax and have a massage while you drive or ride.  More hours on the road in comfort – Try it now and feel the difference!
Tactile Massage Seating Systems.
Specifications :
6/4  Individual massage motors
Programmable vibration intensity and speed control.
3 Massage zones with SELECT, WAVE, PULSE and ZIGZAG function